Welcome to Glenn Financial
Glenn Financial has been established to provide investment services to individuals who desire to incorporate the morals of their faith into all aspects of their life including their investments.
At Glenn Financial Services, I want to work with you in achieving your personal financial objectives while intentionally using only investment products that are in alignment with your beliefs and values. A faith-based approach to investing will help your resources work towards both tasks without compromise.
Faith-based Biblically Responsible Investing is a choice. God gives us each a free will to choose how we spend our resources and how we invest our money. You may already be a person of moral integrity in many aspects of your life, actively exercising your faith through prayer and/or personal involvement in outreaches, helping the poor, feeding the hungry, filtering your internet, not spending your money on products or services you find offensive. After exploring our website I hope you will agree that the same integrity can be brought to your investments.
Please feel free to explore the rest of this site. If you have any questions or comments, you may contact me by phone, mail, email, or fax. I have listed the address and phone numbers on the Contact Page.
May God bless your life's journey!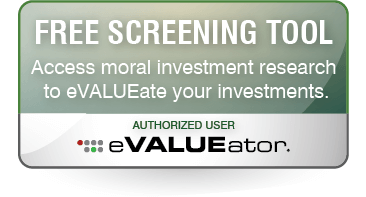 How Long Will It Take to Pay my Balance?

How much do you need to save each year to meet your long-term financial goals?

How much will it cost to pay off a loan over its lifetime?

Estimate the future cost of an item based on today's prices and the rate of inflation you expect.